Local fishermen regard the McLaren Vale and Fleurieu Coast as one of the best regions for fishing in South Australia. The coastline offers a number of great fishing spots, as does the Onkaparinga River, with many family-friendly.
Dropping a line is popular in these parts, offering good fishing all year, with several top destinations to nab the catch of the day.
Try these local family-friendly fishing hot-spots:
Port Noarlunga jetty
Southport beach (at Onkaparinga River mouth)
Sellicks Beach boat ramp
Onkaparinga River
Moana Beach
Aldinga Beach
Most beaches boast salmon, salmon trout, flathead, mullet, tommy rough, garfish, yellowfin whiting, and squid. All fishing beaches and the Onkaparinga River are easily accessible on foot, with your rods, bait and Esky for your catch.
If you talk to the local fishermen, they will tell you any time of year is a good time to fish. However at Port Noarlunga jetty during winter, fishing is at its best, there's salmon, mullet and tommy rough, while garfish and squid are generally caught year-round.
Whether you fish solo, or with a group of friends, boat or shore, there is something always biting in the area and we've made the decision of what to target a little easier for you, with our fortnightly 'what fish are biting' guide below. Throughout the year, you can look forward to updates in Summer, Autumn, Winter and Spring for the best suggestions on where to get your best catch!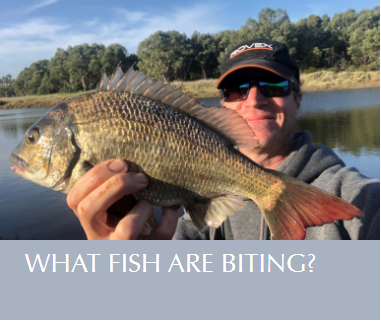 Here's a couple of top tips from D'Arry Osborn from d'Arenberg Wines, when he is not at the winery he's gone fishing. He knows a thing or two about the region and fishing since he was eight.
You need the tides in our favour – low tide is not the best but full tide is ok on the beaches
The type of bait is important – any sort of worms are great and use crabs for bream
If you are fishing for bream in the Onkaparinga River you will need worms or prawns, as well as a very light tackle with a running sinker
As for cooking your catch, the word amongst those who know is to keep it light and simple. D'Arry believes all you need is an egg, breadcrumbs, a bit of canola oil in a hot pan and a couple of minutes each side for the perfect cooked fillet.
Check out the local fishing and tackle stores for any new gear or to hire a rod and reel and also chat to them about everything from charters to bait and tackle. Try the helpful local stores in Christies Beach and Seaford. If you've forgotten your bait, don't worry, there are a few bait vending machines dotted along the coast.
A hard day of fishing always calls for a drink so why not try out some of our local breweries and gin distilleries for a nice cold beer or glass of gin.
Breweries
Distilleries